QIOX delivers QX Kiosk remote & Digital Signage software for kiosk self-service spolutions and TV displays.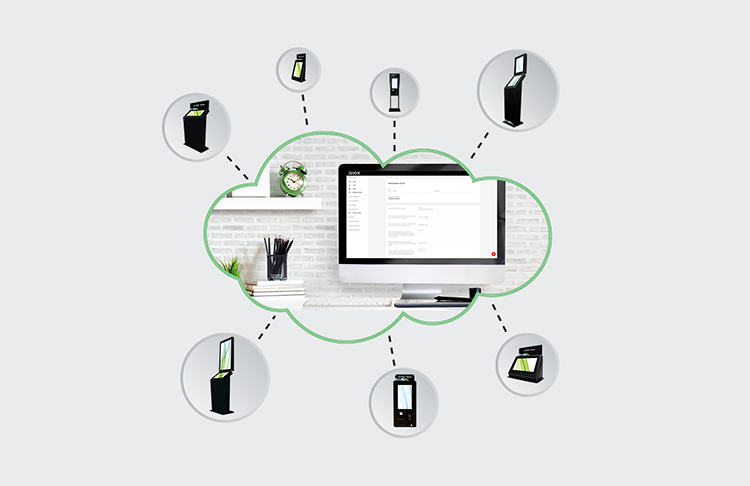 QIOX complements that which the customer or reseller himself does not find convenient. Does the customer supply his own application, but is the content insufficient? No worries! QIOX ensures that everything is delivered complete and working. Also for total solutions we make the content in order, including a user-friendly user interface together with our software partners. QIOX uses its own remote software to be managed from https://cloud.qiox.nl and we like to work together with our and/or your software partners. Assessing and testing the software together is preferred. We speak the same language as the software developer and work together or complementary on a project where desired. With expertise in Android we make sure that software works the way it should.
Our QX kiosk app & Cloud CMS product makes the user experience and experience of Android web or native applications manageable and secure on your kiosk!
Using our QIOX Desk in the cloud, users of web- or native applications can ask for advice, make product selections and order products that are not physically present on site. Our QIOX Desk is a secured cloud solution to support your applications at your location(s) if you want to offer service and advice to your guests and reduce waiting times. In addition, our QIOX Desk protects your web and app applications against unwanted updates to known platforms such as android or other unwanted disruptive factors on your digital services. 
KIOSK Browser
The kiosk browser allows a remote administrator to implement a website on our devices. In kiosk mode, navigation is limited to just your web page and links or native applications.
Our Kiosk-browsers offer the end user direct use of the web content you have available for the kiosk environment. Specific links suitable for an optimal user experience may be required, but the system for delivery of your web content may remain unchanged.
This is a considerable efficiency compared to other models where a content library and presentation layer needs to be imitated for digital signage of your application. QIOX Cloud Desk includes a very powerful kiosk browser. Our Kiosk browser also supports settings to end browser sessions so that the devices are ready for the next customer.
There are two settings available: Automatic return to home page after a specified timeout. Delete user data: on time-out, on return to home page or never. In addition, an attractive screen saver or Kiosk browser can be linked.
Application management
With the QIOX library it is easy to change the content on screen. Upload content, push it securely to the device and lean back because it's so easy.
Our Kiosk Lockdown software offers you a simple and secure solution for registering, configuring and managing Android devices. Configure our devices in single-app or multi-app mode with the ability to prevent user access to settings by changing the devices in kiosk mode. With your own app library you can upload, edit and push content to all your devices. With our application management platform you can upload any Android application or website to your library.
Deploy content directly to any device without rebooting.  Play instantly - See what's playing on a device in real time. Change it with a simple drag-and-drop.  No downtime - Everything can be done with a live device, eliminating downtime.
Auto Updates
Our devices make contact with our server as soon as they come on. If you have set up an app update, the device will automatically download, install and play. Cloud updates can also be used to set up an MDM agent and configuration.
The service of our platform ensures an automatic installation of your applications.  As a user, you can set a "default app" for the account (or group of devices).
This app is automatically delivered, installed and executed when a device is added to the account. Your devices can be added to an account and serial numbers are automatically read.
All device settings (see Device Manager) can be preset and are applied automatically when the device comes online. Users can set a "default app" for the account (or group of devices). This app is automatically delivered, installed and executed when a device is added to the account.
When starting up for the first time, the device downloads, installs and runs the app scheduled over the Internet. Device can be registered in an account with account login and password .
Remote Tool
Control your devices from the cloud. With QIOX platform you can watch what's playing, adjust the volume, check for updates, restart your device, all without leaving your desk.
Our MDM dashboard puts everything you need to keep your devices running smoothly at your fingertips.  
CPU monitoring
Monitor the CPU usage of each device in real time. Track user activity to ensure your content reaches your target audience.  
Device status
Receives messages about the status of the device. When a device goes offline, you are the first to know.  Playing now - View active screenshots of content currently playing on your devices.  
Location
Track the placement of all your devices on an interactive map. 
Take full control of your device settings from anywhere in the world. With our MDM platform, adjusting the brightness of a device in New York from your Eindhoven office has never been easier.
Device settings
With QIOX you have the ability to adjust the settings of your device, such as volume and brightness.  
Software update
Update your devices remotely as new software updates become available.
Reset data
Restore your device to factory settings and delete all locally stored content.
Application management
Log files
Remote administration and monitoring
Automatic reset of browser and logout
Browser lockdown and automatic recovery
Internet content filter
Configuration tool
On-screen keyboards
Customizable user interface
Limited internet area
Screensaver
Display in fullscreen mode
Digital Signage & Cloud CMS
QIOX provides Digital Signage software, also known as narrowcasting, and is a form of communication in which audiences are reached at a certain location by means of TV displays. We have QIOX self-service solutions with an extra TV display on which you can play attractive promotions.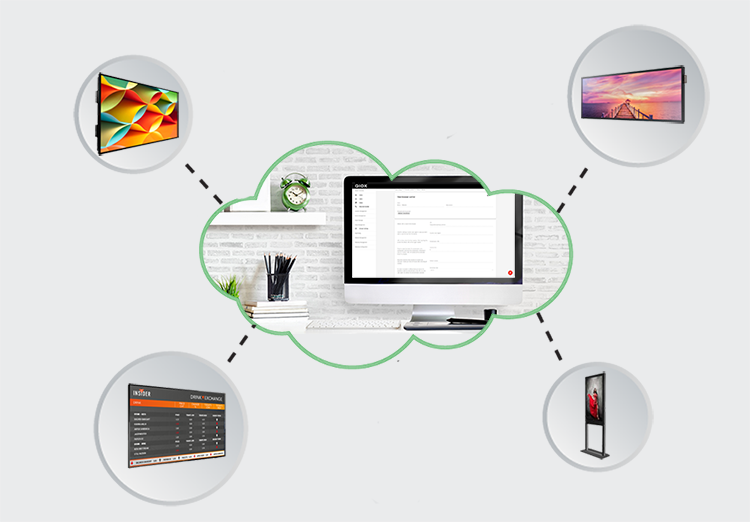 You create your own professional TV channel as it were! This is efficient, scalable and most importantly: you reach the right target group at the right time. Whatever industry you are in: digital signage works!
Digital Signage is an important and effective tool to influence behavior at a (decision) moment. Consumer insights and sales analyses in combination with the right technology, hardware and content ensure that you trigger activation.
Our CMS (Content Management System) enables you to create and control content:
Automatically perform product presentations and information displays
Interactive applications with page based navigation, pop-ups and embedded web pages
Scheduled or sensor triggered promotions
Central server management console
Remote maintenance
Insight through reports and statistics
Remote content management
Unlimited access to all functions for 12 months
Warnings: e-mail and sms (there may be restrictions on sms notifications)
Free technical support
Subscription is up to 1 year with 1 month notice. Subscription commences at the time of QIOX furniture delivery.
Whether you want to show supplier advertisements, manage a new menu or store promotions or operate a POS/self-service terminal: Our CMS supports you with easy-to-use features so you can deliver your content quickly and easily. The QIOX cloud server supports the Android platform and a wide range of devices such as tablets, kiosk terminals and high-resolution displays.
One software platform with many applications!
With our CMS you can produce your Digital Signage campaigns in a few easy steps. Easily apply effects and animations or show embedded web content. Add text, photos, movie and date/time zones. Publish your content directly from your browser to our android terminals. Passive presentations can inform and even impress people. Do you want to go one step further and engage your customers by giving them ways to deal with the content? Then simply add interactive elements such as pop-ups, browsing content or navigating through pages to your content. Let customers browse your product catalog or show videos or other content in pop-ups. With signage, you can create your own interactive presentations with little effort.