The unTill Software Development Group BV has been developing and delivering software for hospitality companies for over twenty years. Whether it concerns restaurants, bars, hotels, events, leisure or take-away, unTill® provides user-friendly software that gives you more grip and overview and saves you time. The employees of Upta have a background in the hospitality industry and speak the language of the entrepreneur. Moreover, they understand like no other the role and function of automation for your business. UnTill® software for the hospitality cash register is made by people from the hospitality industry. Whether it's hotels, restaurants, sports clubs, events or take-away, unTill provides automation that allows you to work more efficiently and have more insight.
"Together with QIOX we ensure an optimal connection of self-service POS systems to specific hospitality concepts as for example our customer Roompot. Our service in combination with the expert advice on the QIOX self-service devices ensure very satisfied customers."
Andre Kortlever, manager Upta POS software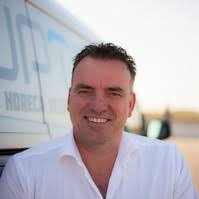 Your self-service advantages with QIOX in 1 row.
easy to place an order via an order column
available in different formats, from wall model to standing order column
Simple article and price management
Customization based on your own style
direct contactless payment
automatic upselling suggestions
full integration with the cash register system
full management by your cash register supplier - one point of contact!