Kiosk activation per device | one time fee 
QIOX complements what the customer or partner does not get out of. Does the customer provide his own application, but is the content insufficient? Don't worry! QIOX ensures that everything is delivered complete and operational.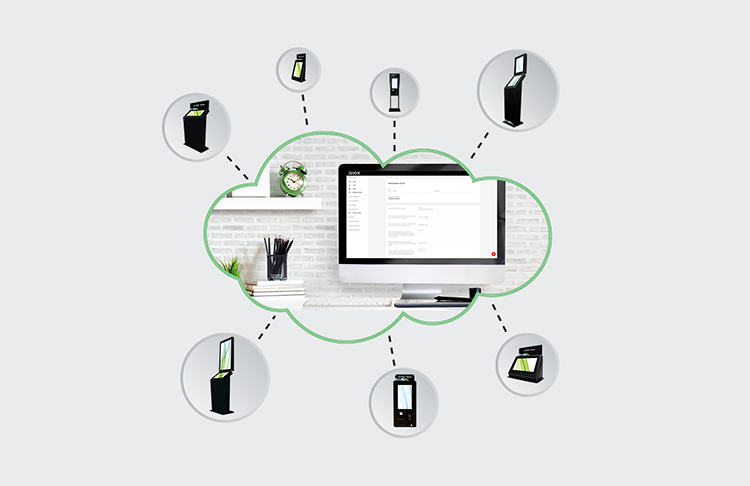 QIOX uses its own remote software to be managed from https://cloud.qiox.nl and we work together with your software partners. Assessing and testing the software together is preferred. We speak the same language as the software developer and work additionally or together on a project where desired. With expertise in Android we make sure that software works the way it should.
Our kiosk app & Cloud CMS product makes the user experience and experience of Android web or native applications manageable and secure on your kiosk!
Using our QIOX Desk in the cloud, users of web or native applications can ask for directions, ask for advice, make product selections and order products that are not physically present on site. Our QIOX Desk is a secured cloud solution to support your applications at your location(s) if you want to offer service and advice to your guests and reduce waiting times. Our QIOX Desk also protects your web and app applications against unwanted updates to known platforms such as android or other unwanted disruptive factors on your digital services. 
KIOSK Browser
The kiosk browser allows a remote administrator to implement a website on our devices. In kiosk mode, navigation is limited to your web page and links or native applications only.
Our Kiosk-browsers offer the end user direct use of the web content you have available for the kiosk environment. Specific links suitable for an optimal user experience may be required, but the system for delivering your web content may remain unchanged.
This is a considerable efficiency compared to other models where a content library and presentation layer needs to be imitated for digital signage of your application. QIOX Cloud Desk includes a very powerful kiosk browser. Our Kiosk browser also supports settings to end browser sessions so that the devices are ready for the next customer.
Two settings are available: Automatic return to home page after a specified timeout. Delete user data: on time-out, on return to home page or never. In addition, an attractive screen saver or Kiosk browser can be linked.
Application management
With the QIOX library it is easy to change the content on the screen. Upload content, push it securely to the device and lean back because it's so easy.
Our Kiosk Lockdown software offers you a simple and secure solution for registering, configuring and managing Android devices. Configure our devices in either single-app or multi-app mode with the ability to prevent user access to settings by changing the devices in kiosk mode. With your own app library you can upload, edit and push content to all your devices. With our application management platform you can upload any Android application or website to your library.
Deploy content directly to any device without rebooting.  Play instantly - See what's playing on a device in real time. Change it with a simple drag and drop.  No downtime - Everything can be done with a live device, eliminating downtime.
Auto Updates
Our devices make contact with our server as soon as they are switched on. If you have set up an app update the device will automatically download, install and play. Cloud updates can also be used to set up an MDM agent and configuration.
The service of our platform ensures an automatic installation of your applications.  As a user, you can set a "default app" for the account (or group of devices).
This app is automatically delivered, installed and run when a device is added to the account. Your devices can be added to an account and the serial numbers are read automatically.
All device settings (see Device Manager) can be preset and are applied automatically when the device comes online. Users can set a "default app" for the account (or group of devices). This app is automatically delivered, installed and run when a device is added to the account.
On first launch, the device downloads, installs and runs the app scheduled over the internet. Device can be registered into an account with account login and password .
Remote Tool
Control your devices from the cloud. With QIOX platform you can watch what's playing, adjust the volume, check for updates, restart your device, all without leaving your desk.
With our MDM dashboard, you have everything you need to keep your devices running smoothly at your fingertips.  
CPU monitoring
Monitor the CPU usage of each device in real time. Track user activity to ensure your content reaches your target audience.  
Device status
Receive notifications about the status of the device. When a device goes offline, you are the first to know.  Being played now - View active screenshots of content currently playing on your devices.  
Location
Track the placement of all your devices on an interactive map. 
Take full control of your device settings from anywhere in the world. With our MDM platform, adjusting the brightness of a device in New York from your Eindhoven office has never been easier.
Device settings
With QIOX you have the possibility to adjust the settings of your device, such as volume and brightness.  
Software update
Update your devices remotely as new software updates become available.
Reset data
Restore your device to factory settings and delete all locally stored content.
Application management
Log files
Remote administration and monitoring
Automatic reset of browser and logout
Browser lockdown and automatic recovery
Internet content filter
Configuration tool
On-screen keyboards
Customizable user interface
Limited internet area
Screensaver
Display in fullscreen mode